ORLANDO, FL ACCOMMODATIONS
Our Orlando, FL Nationals is at the beautiful Hilton Orlando on Destination Parkway.  The event dates are June 22-27, 2021.
For flight and/or traveling purposes – solos will begin on June 22nd as early as 7:30am.  Small groups may begin as early as June 23rd.  Our Group Finale will be on June 27th in the evening so for traveling purposes please do not plan to return home until the morning of June 28th, 2021. In the event that there are not enough entries to support a 6 day national show, the last day will be a free day.
Let the Florida sun embrace you at Hilton Orlando. Hop aboard the International Drive I-RIDE Trolley to explore new shops and live entertainment, all within a two mile stretch. The hotel's centralized location means you're only 12 miles from Orlando International Airport and most important of all – the area's major theme parks are only a few minutes away.
We team up with a company specializing in theme park tickets to bring you the absolute lowest price you will find for theme park tickets on the days that your team is not dancing, making the entire event stress free and easy to plan ahead of arrival.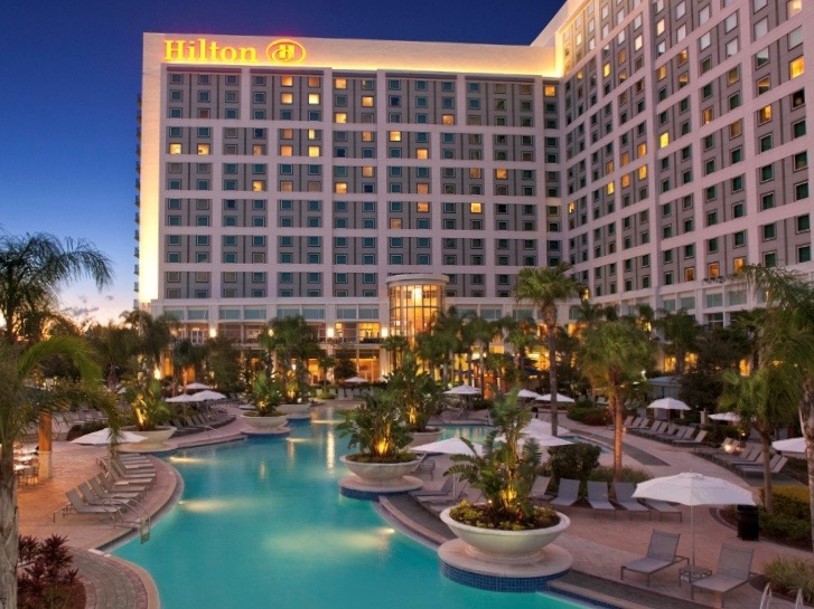 THEME PARK TICKETS
In10sity Dance is proud to have partnered with Hello Florida! to offer discounted tickets to our attendees that are valid at Walt Disney World, Universal Orlando, and SeaWorld. A link to purchase tickets online will be added to this page after January 1, 2021.
BOOKING INFORMATION
We have negotiated the terrific starting rate of $150 per night for doubles because we know that staying right on location makes for less stress and a more enjoyable experience for your families and dancers.
You may book your stay at the Hilton Orlando online by clicking the following button:
Reservations are also available by contacting Hilton Hotels & Resorts Reservations at 1-800-774-1500, and letting them know you are booking in the In10sity Dance room block.
We encourage you to book EARLY.  Our host hotel sold out in February for our 2019 Nationals. 
Why book with the Hilton Orlando? (must book within the group to get these benefits!)
Same location as the competition!
Parking: Discounted for In10sity to $9 (regularly $27)
Resort Fee:  Discounted for In10sity to $5 (regularly $35) – includes free WiFi, fitness center, recreational amenities, and 15% discount in all outlets, excluding Tropics.
Lazy river, water slide, splash zone, pools, private cabanas, sports courts, full-service spa
Seven different dining options